Creating a nutrition label for your Christmas dinner
In the UK there are many software systems available to calculate the nutrition content of products and dishes. Most will use the food composition data we compile and maintain.
This dataset, however, contains some unknown nutrient values, occurring when analysis of a specific compound in a specific food has not been carried out. The absence of this data means that the calculation method to produce a nutrition label becomes very difficult. So, we have produced an improved labelling dataset by estimating the missing values for the most important foods. This new labelling dataset covers 2914 foods and ingredients from almonds and apples to yogurt and Yorkshire puddings, and is freely available to download here Labelling for Food
We have had a bit of festive fun with a few hints and tips if you wanted to use the calculation method to produce a nutrition label content for your Christmas fare
Crackers: The ones that go bang, with a hat and a gift will not need nutrition labelling, the ones for cheese will.
Turkey: A very important question for nutrient levels: Are you a leg or breast person?
Duck: Check you are using nutritional information for the bird, not for Bombay duck which is a fish, actually it's a lizardfish, just how confusing can food names be?!
Beef wellington: data is available in our data set for homemade beef wellington, if you bought readymade wellingtons we suggest you refer to the manufacturers specification sheet, try Dunlop or Hunter
Roast potatoes: The type of fat you roast them in will affect the nutrients
Mashed potatoes: Remember to include the butter and the salt in your calculation
Duchess potatoes: Just how many sorts of potato are you having?
Brussels sprouts: Why Sprouts? Just why? Sorry, I mean why calculate, you don't need to, they are a single ingredient food so you can take the information straight from our database.
Gravy: The nutrient content of home-made gravy is difficult to calculate due to all the potential variations in the different meats, suggest you pause dinner and send for lab analysis.
Yorkshire puddings: Yorkshire is not an ingredient; neither is it a dessert. Try egg, flour and oil.
Pigs in blankets: Blankets are not included in software systems, we suggest you choose bacon, streaky
Yule log: Unlikely to contain any logs
Christmas pudding: The reason you steam puddings for 8 hours is to allow you time to calculate the nutrient information from the 20 ingredients you have used
Mincemeat1: Don't get confused with this food name, this is not minced meat, but a mixture of chopped dried fruit, spices and if you are lucky some spirits
Ginger bread: If a gingerbread man is in a gingerbread house, is the house made of flesh or is he made of house, just wondering
Alcoholic beverages : Energy is required, for the label, not so much for toasting absent friends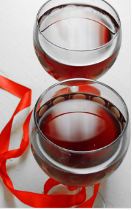 Antacid tablet: Does not need nutrition labelling
We hope that helps.
Happy Christmas from Food Databanks!
1 Mincemeat was first created as a way of preserving meat — usually mutton — without having to salt or smoke it. It became a Christmas staple when the Crusaders returned home in the 12th century with cinnamon, cloves and nutmeg. The three spices used in this recipe were symbolic of the gifts given to baby Jesus by the Magi, therefore linking this recipe to Christmas. The spices contain antimicrobial properties that helped keep the meat through winter (and also probably masked any flavors of old meat). The meat used was normally finely chopped — also known as minced in cooking lingo — and that's where this pastry got its name. [ http://www.huffingtonpost.com/2014/12/09/mincemeat-explained_n_6288020.html ]