We are very delighted to welcome Suzy Smith – a development chef working for the PERNUG project, to contribute to our 'Plant-Based Eating' blog series, stay tuned for many useful tips around cooking and lifestyles in the upcoming months!

Plant-Based Eating – My Top 10 Store Cupboard Items
This is my top 10 list of items that I always have in the store cupboard. Add in a bunch of fresh or frozen veg and salad items and you'll be able to whip up delicious plant-based meals in no time!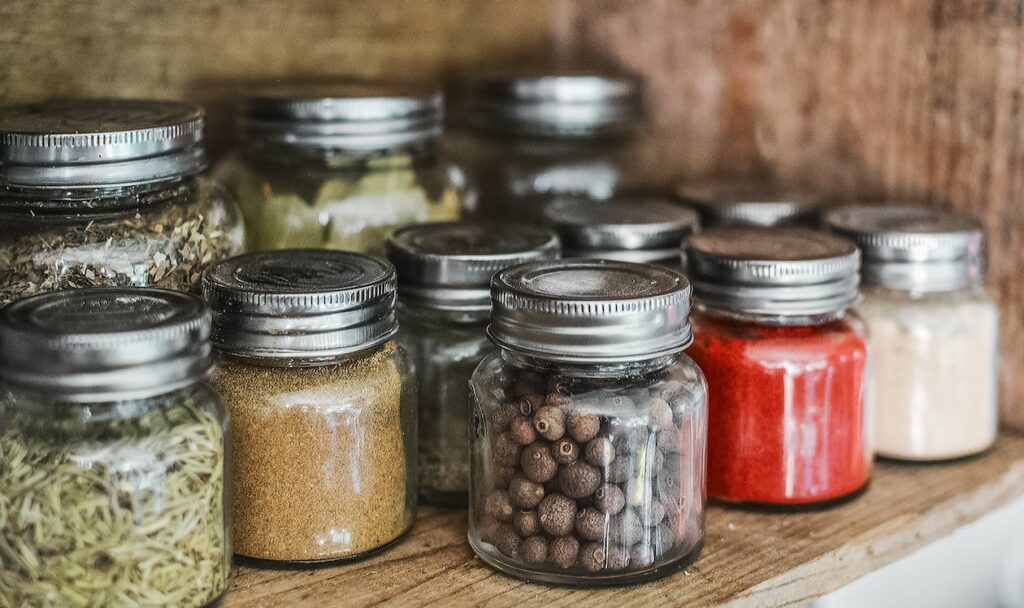 In at number one has got to be tinned tomatoes. They're so versatile – add to veg chillies, curries and make into quick pasta sauces and soups. Buy the best tinned tomatoes that you can afford for turning into pasta sauces. Good quality tomatoes, when cooked down, have a lovely depth of flavour.
Tinned chickpeas, beans and lentils are great for salads, make tasty fillings for wraps and can be added to soups. I love Italian cooking where tomatoes, beans, veg and herbs are turned into comforting soups.
Grains of all descriptions find their way into my overflowing store cupboard. Rice, quinoa, pearled spelt, amaranth, barley – I could go on. Wholegrains are perfect for salads, risottos, pilaffs, soups etc. and for serving with curries and chillies. Try pearled spelt instead of rice in a risotto; it adds a lovely nuttiness.
Himalayan black salt (also called Kala Namak) is essential if you want to make vegan egg alternatives. It provides a very distinctive smell and taste of sulphur. To make an alternative to egg mayo, simply chop and fork some very firm tofu. Add vegan mayo, turmeric for colour, salt, pepper & a little black salt and you'll have yourself a delicious sandwich filling which is quicker to make than boiling an egg!
Peanut butter & nut butters feature in most vegan's store cupboards (unless they have a nut allergy). Slather onto hot toast, stir into porridge, spoon into smoothies, add to stir-fry sauces or just eat from the jar. Tastes amazing on top of rice cakes with sliced banana and a drizzle of maple syrup.
Plant-based milk alternatives are growing in number – pea milk anyone? It might seem odd but it's surprisingly delicious and good in overnight oats. I make vegan cheese sauce with soya (unsweetened) and I always have oat barista in my morning coffee. For baking try almond, oat, or soya.
Soy or tamari sauce (if you're gluten free) finds its way into many of my recipes. Don't just use it for Asian cooking; one of my favourite things to eat is sauteed mushrooms, a dash of soy sauce, a splash of vegan cream alternative and lots of black pepper. Serve on top of toasted sourdough for a quick and tasty meal. Add to soups and stews to provide a lovely umami flavour.
Condiments such as vegan mayo, chilli sauce, vinegar and chutneys are essential ingredients in my view. They always find their way into my suitcase when we're on a self-catering holiday. Combine vegan mayo, Sriracha chilli sauce and lime for a spicy and zesty dip for sweet potato fries. Serve interesting chutneys with curries and lentil dhals and make salad dressings with cider apple vinegar – your gut will thank you.
Pasta in all its forms feature heavily in our family meals. I don't think my children could imagine life without it. They frequently ask for spinach pasta which I'm happy to oblige with. I blitz spinach leaves with soya milk alternative. I make a roux with vegan butter and flour, gradually add the spinach milk, stirring frequently until no lumps appear. I then add grated vegan cheese, a little nutritional yeast, seasoning and a little grated nutmeg.
Affectionately known as "nooch" nutritional yeast flakes provide a lovely cheesy flavour to sauces, soups and more.
PERNUG (PERsonalised NUtrItion through kitchen Gardens), aims to address nutritional deficiencies by increasing access to high nutritional quality plant foods. For more information: PERsonalised NUtrItion through kitchen Gardens (PERNUG) – EIT Food

This research was supported by the European Institute of Innovation and Technology (EIT) Food, co-funded by the European Union under the Horizon 2020 and Horizon Europe, the EU Framework Programmes for Research and Innovation.